Self-build Domestic Play Equipment

Empress Fencing is the area's primary stockist of this fantastic range of domestic grade self-build children's play equipment.
Choose from an enormous range of play towers, in kit form, to suit the space you have available. Build your own play area with ease using swing fixings, hooks and fasteners. 
Once built, accessorise for your children's needs and wishes. Choose from pirate flags to noughts and crosses play boards; binoculars to zip wires – the options are endless.
Play equipment that grows with them
As your child grows, and their needs alter, your play equipment can change with them. Swap your baby seat for a swing seat, traditional flat seat or even a nest swing or pair swing.
As they develop, remove items and add different ones, to keep their interest and ensure the play equipment is well used for years to come. Change a blackboard for a set of climbing stones, or change a flat swing for a knot swing or a fireman's pole.
Whatever play adventure you want to give your children you will find the items to suit. We are here to help you through the process of choosing, budgeting and ordering to ensure your project goes with a swing!
To get started call in to see us and view the range of options that are available to you.
Installation made easy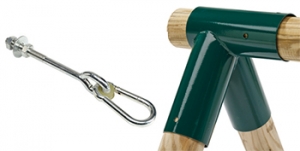 All kits come with full instructions and conform fully to European safety regulations. We can supply you with all the necessary timber to add to the kit and get your project up and off the ground.
Quality play equipment

Easy to install

Endless design options

Grows with your child

Conforms to EU Regulations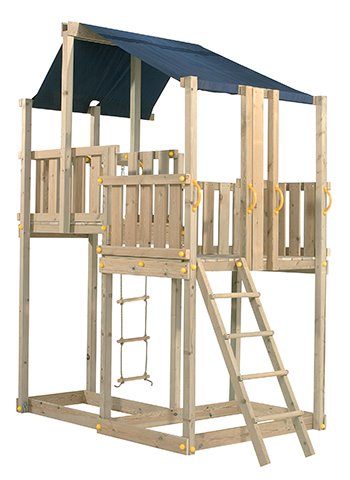 Empress Approved Fitters
All items are easy to put together but should you need a contractor to assist with the design or installation, we have experienced people we can recommend. We have a list of tried and trusted local tradesmen who we recommend to install play equipment. They can advise on the best solution for your garden and will take care of all the ordering and installation for you to avoid any stress.* We will be happy to supply you with a list of names and telephone numbers.
*Empress Fencing Approved Fitters are local independent tradesman who we know carry out play equipment installation to a high standard. Whilst we are happy to recommend their services, they are in no way affiliated with Empress Fencing and as such Empress Fencing are not responsible for the work carried out. Any problems arising with fitting must be addressed to and by the employed tradesman.