Decking
A good quality deck can quickly create an attractive and additional useable space in your garden. You can build it as a stand-alone feature to take advantage of the garden's sunniest spot, or to extend your internal floor space outside by attaching a deck to the front, side or back of your house.
Your deck can be much more than a basic platform – add steps, a handrail and spindles or link split levels to make a real statement and add value to your home.
At Empress Fencing you will find a good supply of quality redwood (softwood) tanalith treated decking in stock. We carry various lengths to avoid excessive wastage and to suit your particular decking project. You will also find a wide selection of decking accessories including spindles, newel posts and handrails to edge your deck; and Cuprinol products to treat and maintain it, so it lasts for years to come.
Rope & Chain
Particularly useful for demarking boundaries or providing a contemporary border to a garden area – ask us about the most suitable rope and chain for your project. You will find a comprehensive range in stock and we can order specialist items and long lengths on bulk reels to provide a more cost effective option.
Quality softwood decking

Various lengths

Spindles & Newel Posts

Hand Rails

Cuprinol Treatments

Rope & Chain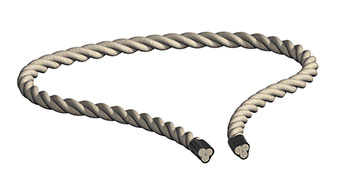 Why choose softwood?
Softwood is a good option for decking as it is much cheaper than the hardwood alternative and also easier to cut and work with. Redwood softwood decking is an alternative to the cheaper and lower quality whitewood softwood decking. Although both look almost the same, redwood is a denser grained timber and is of a much higher quality, that will produce a good looking deck that lasts.
Installing Your Deck
When preparing your deck plans, here are a few handy hints to think about:
Is the ground level or does it need levelling?
Is the decking going to lay straight on top of an existing patio/paved area or are you putting support timbers underneath? We would normally recommend a 50mm/2" thick supporting timber. If your deck is going to be heavily used or lifted a long way up, you might want to use a thicker support or a wider one eg. 50mm x 100mm / 50mm x 150mm / 50mm x 200mm.
Do you need a weed resistant fabric?
Do you need vertical support legs for your deck? If so, consider how many you need and what depth they need to be.
Which length will your decking boards run along? If you can buy a length of deck which will cover it in one go, you avoid the need for piecing your deck.
Are you going to put a 'skirt' around your deck using decking boards? Make sure you allow for extra boards for this.
Are you are putting in a handrail? Think about where you want the opening and what length you are covering with handrail.
Finally, once your deck is built and you are ready to relax – what is the first drink you are going to have on it in your lounger?
You will find a good range of fixings, screws, nails and bolts in our shop.
Treating your deck
We always recommend that you stain or oil your deck in some way in order to protect it and prolong its life. A softwood treated deck will start its life looking a light green/brown colour – this will fade over time to a dull grey so it is important to look after it before this happens.
If you cut the timbers when building your deck, it is a good idea to treat the cut ends to re-seal the treatment. Cuprinol Clear Wood Preserver or Cuprinol Decking Oil would be suited to the task. If the cut ends are going to be out of sight, you can always use some creosote or other outdoor stain you have left over from another project.
Looking after your deck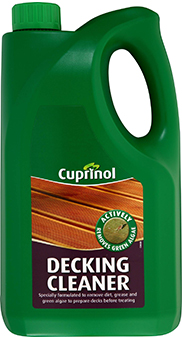 Once your deck is down, you will need to look after it in order to maintain the timber. We recommend cleaning your deck down before and after each season – this may be particularly necessary if your deck is sited under trees as they can encourage slippery patches to form on your deck.
We stock Cuprinol Decking Cleaner which is well suited to the task, or you can use a power washer and a stiff brush to clean the deck boards.
Oil your deck once a year will keep some of the warmth and moisture in the timber. Cuprinol Decking Oil comes in a variety of shades and is perfect for this task, as it also helps to preserve the timber.
You will find a good range of Cuprinol products to stain, treat and clean your deck in our shop.
Empress Approved Fitters
We have a list of tried and trusted local tradesmen who we recommend to install decking. They can advise on the best solution for your garden and will take care of all the measuring and installation for you to avoid any stress.*
We will be happy to supply you with a list of names and telephone numbers.
*Empress Fencing Approved Fitters are local independent tradesman who we know carry out deck installation to a high standard. Whilst we are happy to recommend their services, they are in no way affiliated with Empress Fencing and as such Empress Fencing are not responsible for the work carried out. Any problems arising with fitting must be addressed to and by the employed tradesman.