How to measure and fit a gate
Getting the right size gate and fitting it correctly is not always as straight forward as it seems. Follow our guidelines to make sure your gate fitting goes without a hitch.
Measuring for a timber gate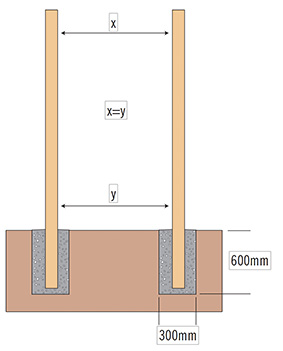 Replacing an existing gate
If you are replacing an existing gate and it needs to be exactly the same size, it's always a good idea to make a sketch/take a photo of the gate and then annotate it with as many measurements as you think necessary.
If you are re-using your existing ironwork for hanging and fastening the gate, you will need to let us know so we can manufacture your new gate with rails in the right place to attach these items.
Creating a new gateway
If you are putting a brand new gateway in place, we always advise you get your gateposts in first to avoid any complications later on.
Once the gateposts are in, take a measurement between them precisely and then deduct the space required for hinges and fasteners, to arrive at the measurement of your gate.
Posts
Free standing posts for 6′ gates should be at least 100 x 100mm (4" x 4"). Supported posts either with a top cross member or at the sides, may be smaller. If using a top cross member, it should be at least 2m (6' 6") off ground level.
The hole size for each post should be 600mm deep and 300mm wide.
Concrete in the posts with MetCrete or a similar post fix concrete. Posts may also be fixed to an existing wall.
Ensure posts are vertically parallel before attempting to fit the gate.
Fitting a timber gate
If you are creating a new gateway, there are three main hanging methods you can choose from:

Hung flush between the posts

Hung in-between the posts

Hung infront/behind posts
IRONWORK
Please note that we don't fit ironwork to your gates when we make them. We suggest that is all done on site to avoid any costly mistakes. Get your gate in place first, check all measurements and make sure everything lines up well before drilling any holes for fixings.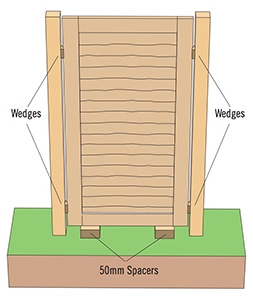 THE FITTING PROCESS

Position the gate between the posts and place some 50mm packers under it. Allow for any unevenness in the ground when the gate is opened.
Place wedges either side of the gate to even out the gaps either side and to hold the gate in place while fitting the hinges.
Fit the hinges, taking care to ensure that the gate opens as intended. Remove all spacers and wedges and check that the gate swings freely.
Fit the latch to the gate at the preferred height and in a position where the gate can support the screws. Fit the keep to the post.
Finally, fit a gate stop to the frame/post to protect the hinges and latch from damage.
TOP TIP: It's a good idea to carry out the fitting with another person to hold things in place.
Empress Approved Fitters
We have a list of tried and trusted local tradesmen who we recommend to fit our garden and driveway gates. They can advise on how best to hang your gate and will take care of all the measuring and hanging for you to avoid any stress.*
We will be happy to supply you with a list of names and telephone numbers.
*Empress Fencing Approved Fitters are local independent tradesman who we know carry out gate fitting to a high standard. Whilst we are happy to recommend their services, they are in no way affiliated with Empress Fencing and as such Empress Fencing are not responsible for the work carried out. Any problems arising with fitting must be addressed to and by the employed tradesman.