How to look after your gates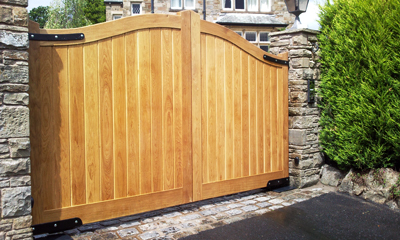 Quality wooden gates are an investment and looking after them correctly will ensure they continue to look good and last for years to come.
Just a short amount of time spent looking after your gates, and maintaining them annually, will help them survive cold winters and hot summers, and stop unwanted deterioration.
Different gates needs different treatments,
follow our guide to find out how to look after yours.
Gate Care Guide
Our Redwood Softwood gates are made using kiln dried timber. It is important to treat your gates with a water-repellent, breathable wood preservative before hanging them to prevent moisture ingress, which can cause swelling and warping.*
We suggest using a spirit-based oil or stain, which is absorbed into the wood and prevents rot by repelling water and moisture. If you contact your local paint shop, they are usually able to suggest a suitable product.
Different solvent-based treatments will offer different guidelines for how regularly you should re-treat the wood, however we recommend applying a fresh coat of spirit-based treatment once every six months. Ideally treatment should be applied during the changing seasons, i.e. just before the summer and prior to winter so that the new treatment protects against extreme changes in temperature.
Why can't I use a water-based product?
Water-based treatments can cause the gate to reabsorb water and begin to crack or allow rot to set in. Once rot has set in this makes wood increasingly susceptible to absorption of water and the condition of your gate can deteriorate quickly.
Gates constructed using hardwood timbers are much easier to look after as you don't need to work to preserve the timber itself. The nature of hardwood means that it will look after itself and you don't need to protect the timber (completely different to working with softwoods).
However, hardwood timbers will fade in colour over time and usually turn a silvery grey colour. In order to prevent this and to keep the warmth and colour in your timber gate, we recommend staining or oiling the gate with a suitable product. Once again, you will usually get advice on a suitable product to use from your local paint stockist.
If you have chosen a pressure treated softwood gate it has been pre-treated to protect it from rot. Wood is placed inside a closed cylinder, then vacuum and pressure are applied to force preservatives into the wood.
There is no need to take further steps to treat your gate, unless you wish to stain it for cosmetic purposes. We stock a range of Cuprinol products in the shop which may be of use, otherwise, your local paint stockist will be able to help and advise you.
Tips for staining/oiling your gates
Apply a coat of stain/oil prior to fitting your gates to avoid moisture ingress.
Make sure you are happy with your chosen colour before you start – try it on a scrap wood first, we'd be happy to give you an off-cut.
For spirit-based stain/oil use a natural brush – don't skimp on the quality or you'll be forever removing loose bristles.
For ease, lean your gate against a wall while you treat it.
Treat both sides without allowing each side to dry inbetween coats – staining or oiling one side of a gate and leaving it to dry before doing the other side, puts your gate at risk of twisting or warping. This is because you have created unequal surface tension within the timber and also because the unpainted side will try and absorb moisture, which will cause movement within the timber.
Stain/oil the timber in the same direction as the grain.
Coat the end grain of timbers well – it is most susceptible to sucking in water.
Do paint the bottom of your gate, any timber left untreated will suck up moisture. Modern treatments should allow the wood to breathe.
Watch out for any drips or runs and brush them out.
After treating the first side, spin it round and use a small piece of wood between it and the wall to avoid the treated side getting marked.
The nature of wood
Please remember that wood is a natural product and can be affected by weather conditions. You may find that your gates shrink or swell slightly with the weather and you may even see cracks appear along the grain of the wood. All this is to be expected with a gate and is part of the character of the timber.
*Empress Fencing cannot be held responsible for damage to gates caused by moisture ingress through failure to apply a suitable preservative treatment.